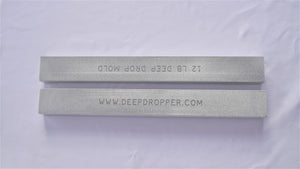 Deep Drop Weight Mold
Sale price Price $399.00 Regular price
12LB Deep Drop Weight Mold
Proudly Made in the USA
This mold will produce extremely high quality deep drop weights.  Beautiful billet construction creating a solid monolithic design.  Tight tolerance machining eliminates flashing.  Steel locating pins for stable and solid engagement.    
Weights are 1-3/8 " in diameter, skinnier than most - very conveniently will fit in a standard rod holder.  Sure beats gel coat chips.  
The cylindrical portion of the mold is 20.5" long.  A full pour will result in a 12 pound lead stick.
5 downrigger wire eyes are included to get you started.  Additional eyes can be purchased through any "Do-It" brand retailer, or here through Do-It online store:
htps://store.do-itmolds.com/Wire-Eyes--pkg_p_1127.html
About $10 for (50) pieces.